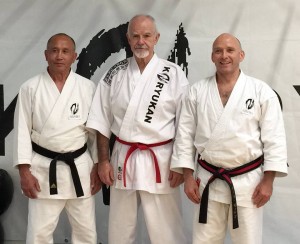 Onze vrienden van het Koryu Uchinadi Kenpo Jutsu (Nederland) hebben weer een week lang de inspirerende seminars van Patrick McCarthy Sensei kunnen volgen, een jaarlijks hoogtepunt voor deze lidbond van de NFK.

Many thanks on behalf of our participating members dear Sensei, it was great as usual!
—
"Wrapped up my last day of teaching in The Netherlands on Sunday and drove over to Dusseldorf [Germany] to catch my flight to Ireland yesterday. The week-long European KU Gasshuku & seminar was one of the highlights of my year thus far. It was so good to catch up with students, friends and supporters but the week went by all too quickly.



I want to thank my assistants, Olaf Krey Renshi [German IRKRS/KU Shibucho], Huub Meijer Shihan and Bert Mollen Sensei [Dutch Shibucho] for helping me deliver the week's instruction … well done gentlemen. Special thanks to all participants, KU country representatives, and especially those who traveled from out of town [state, country & overseas] to attend this year's gathering. Your support is/was greatly appreciated. The camaraderie this year was simply outstanding … thank you all so much for letting me be part of your journey.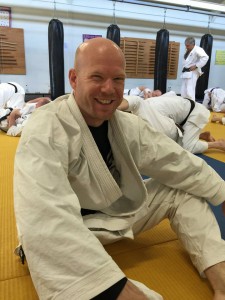 I am especially grateful to my longtime friend, and senior Belgian Karate instructor, François Demesmaeker Shihan for inviting me and our Dutch Shibucho [Huub Meijer & Bert Mollen] to attend the special evening function in honour of the visiting Okinawan Goju master, Kouei Teruya Hanshi, and the OKF dignitaries hosted by Josef Henkens Sensei and his lovely wife Sonja san, in Hasselt, Belgium. Francois, it was an honour meeting such a wonderful group and my most sincere apologies if my comments on Japanese tatemae ~ honne were misinterpreted and or my well-intended wanting to translate the diplomat's closing remarks, considered inappropriate. I sincerely meant no harm and only wished to help.
I am so grateful to my host, friend and longtime student, Bert Mollen and his lovely wife Wilma san, for their gracious hospitality and making me feel at home.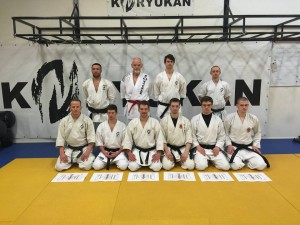 Finally, I'd like to congratulate the KU rank recipients:
Spain ~ Francisco Colomer Orozco – Yudansha
Estonia ~ Andres Kaljuste & Rait Palla – Yudansha & Martin Õnnik Shodan
Belgium ~ Benny Loones – Yudansha & Rodney Vandemoortele Nidan
Thank you all and look forward to seeing you again next year for the 2016 EU Gasshuku."
Patrick McCarthy